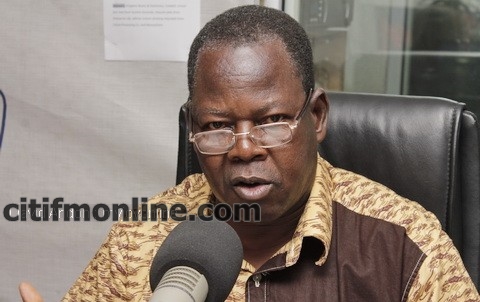 Anti-corruption campaigner, Vitus Azeem, has called on President Akufo-Addo to invite the Deputy Director of the CID, ACP Maame Yaa Tiwaa Addo-Danquah, over a leaked tape on which she appears to suggest that the Police skewed its report on an investigation into allegations of corruption against some state officials to avoid embarrassing the government.
According to him, granting the CID officer audience over the matter, will help to clear the minds of Ghanaians who seem unconvinced by the Police CID's report from the investigations against the two deputy chiefs of staff.
"If the President is really serious about fighting corruption, since the voice tape said the fellow wished she could have access to the president to express her frustration, whether it is true or not, I'm sure the President has heard that so to clear the minds of Ghanaians, the president should invite the policewoman and listen to her. I think that is the best approach…. As the president, we trust him and we have confidence in him so whatever that conversation comes up with, if he puts it in the public domain, majority of Ghanaians will believe him," he said.
Speaking on Eyewitness News on Thursday, Vitus Azeem also said the Commission on Human Rights and Administrative Justice (CHRAJ), can launch an independent investigation into the matter to bring finality to it.
"From the conversations that have gone on, there appears to be some credibility gap that will need further questioning and investigations. CHRAJ too can on its own take the matter and investigate because it is an allegation of corruption," he said.
A musician and sympathizer of the New Patriotic Party (NPP), A-Plus, last month made allegations of corruption against two presidential staffers, Francis Asenso-Boakye and Abu Jinapor, but they were found to be baseless after the CID's investigations into the matter on President Akufo-Addo's instruction.
But in a recently leaked audio recording of A-Plus and the Deputy CID Director, it appeared the police officer was advising A-Plus to deny the allegations because he is a member of the same party with the accused persons.
However, a statement by the CID officer, ACP Addo-Danquah in reaction to the leaked tape, said it was doctored by A-Plus for an evil intent.
"I wish to categorically and emphatically state that, I have never intimated to A-plus in any conversation whatsoever, that I believe his allegation of corruption against the two senior government officials had been confirmed following our investigations," ACP Addo-Danquah maintained in the statement.